Covid-19 health crisis turned out to be a global scale economic crisis. The fragility of global supply chains that are optimized for cost efficiency became apparent one more time similar to the previous crisis periods. Companies that want to be sustainable are looking for ways to boost resilience without losing their competitive edge and focusing on customers has become more widespread. According to the CEO survey by Gartner (2021), companies in the manufacturing sector are focusing on growth with 55% while "focusing on customers" is the first focus for the growth with 63%.  
C-suite and functional leaders must make decisions for crisis management every day. They also need to make sure that the company stays profitable while making their most important customers happy. As the competition is no longer only with competitors, but also with uncertainty in today's competitive world, the decision-makers must avoid decisions that could undermine competitive advantages under cost pressure. 
Businesses have their general risk appetite mostly as a part of their company culture and behavioral model. Defining risk appetite as an input to the organizational decisions is the key to establishing accountability and readiness for managing risk to drive business success and customer satisfaction while it can be also considered as the key to success in aligning all activities around business targets.  
What does a risk-appetite-based approach look like?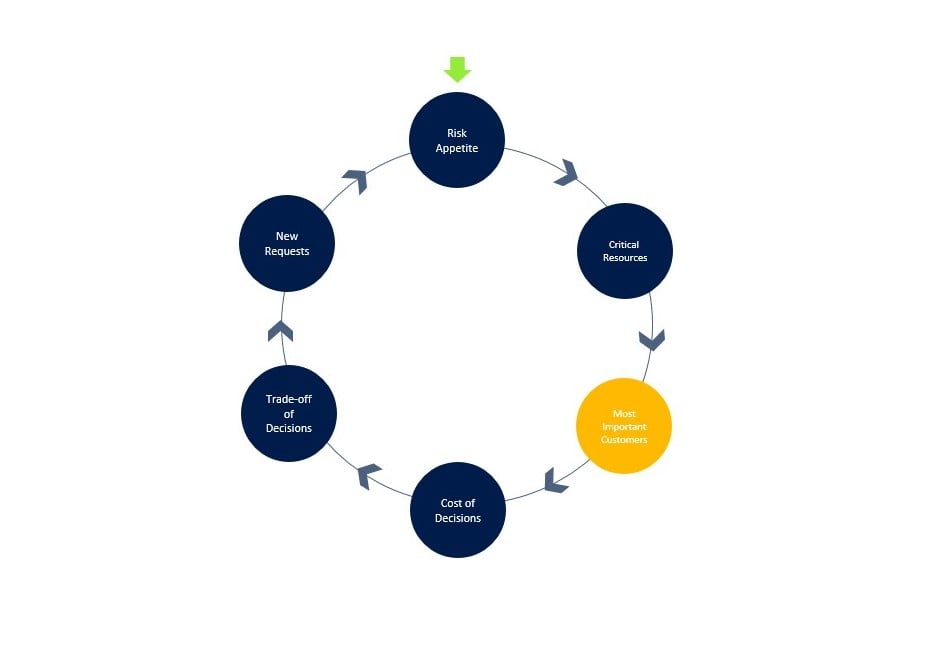 In this approach, risk appetite is the starting point for leveraging cost-efficiency and customer experience satisfaction.  Let's have a closer look at the elements and how they affect each other.  
Risk appetite — Leaders, in general, already have an intuitive risk appetite. The challenge is to align all operational activities of the organization around this appetite. Operational teams tend to avoid risk and have less knowledge about companywide cost implications of local decisions. 
Critical resources — Leaders should evaluate the strengths, weaknesses, and constraints of internal resources, suppliers, outsourcing. Prioritizing those against customer-related business priorities plays a pivotal role in customer satisfaction and growth. 
Most important customers — These are the key stakeholders; they could be a specific customer, regional market, product line, or a type of business. You may also consider what you are trying to avoid — such as increased stock cost, overpromising, capacity bottlenecks, etc. 
Cost of decision — due to complexities and a huge number of alternatives, most of the time, the relative cost of alternative decisions is not visible to leaders. They should decide whether the cost should be absorbed by the company, shared with upstream suppliers, or passed along (wholly or partially) to customers. 
Trade-off decisions — This is the point at which executives should have sufficient information to make decisions about which customer request to support and which to reject. 
As stated by Gartner in "4 Steps to Draft and Operationalize an Effective Supply Chain Risk Appetite Statement" by Koray Kose: 
"A risk appetite sets boundaries on the willingness to explore the optimum risk exposure that should be assumed to achieve strategic and operational goals, sustain competitiveness and increase agility."
As can be seen above, the decision of how much risk the leader wants to take is not an afterthought. However, it is an input to the decisions while generating plans and navigating through disruptions. It works in conjunction with the decisions about which customers and customer orders are the most important ones for you. Together they build up your competitive advantage through customer satisfaction. 
Embed Risk/Opportunity Based Decision Making into Organization 
This allows the company to avoid situations such as misalignment of resources and orders, last-minute expedite costs, internal fights over which order is more urgent, and different interpretations of truth.  Even when a deadline is missed, it is no longer an unexpected surprise but a calculated risk explicitly taken and managed. Most of the time, customer experience is being proactive and communicating better. Mitigating risks and keeping the most important customers satisfied at the same time drive cost-efficiency.
Improve your Decision Making with ICRON
ICRON provides an end-to-end supply chain solution, focusing on revenue generation and sales. It provides you with insights on customer orders while helping you mitigate disruptions. The platform automatically informs you about unexpected surges in risk and newly identified opportunities, enabling you to adopt a risk appetite-based approach easily.
If you would like to see ICRON in action, please contact us. If you have enjoyed this blog, you can find more content that you might enjoy here.